Edit Current Bio
UCB is written collaboratively by you and our community of volunteers. Please edit and add contents by clicking on the add and edit links to the right of the content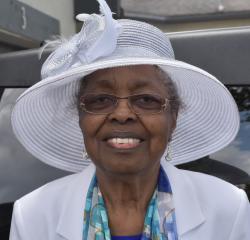 Born on 6-28-1928. She was born in Montezuma, GA. She is accomplished in the area of Education.
Basic Info
Attachments
Relations
Organizations
Accomplishments
Schools
Employers
Effie Brown Williams was the eldest child of Berta Felder Brown and Paul Brown, Sr. born June 28, 1928 in Montezuma, GA. During her formative years, the family moved several times. Despite the disruptions, she was an exceptional student. The family lived for a time in Fort Myers, Florida where she graduated from Paul Laurence Dunbar High School in 1946.

Mrs. Williams attended Spelman College in Atlanta, Georgia. She majored in English with a minor in History. To help finance her education, she held several campus jobs during her time at Spelman. Following her graduation in 1951, Mrs. Williams accepted a position as an English teacher in Early County, Georgia. While living and working there, she met and married her husband, Moses Williams. They relocated to Ft. Lauderdale, Florida. While living there, their daughter Pamela was born.

In 1959, Mrs. Williams began her teaching career in Niagara Falls, NY at Centre Avenue School. During her eight year tenure there she taught 4th, 5th and 6th grades. Her next assignment was at 24th Street School for one year. She taught 5th grade prior to transitioning to Cayuga Drive for two years. Following her stint at Cayuga Drive, Mrs. Williams became one of the original staff members at the "new school", Harry F. Abate Elementary School for approximately two months. She left Abate to accept a one year sabbatical leave.

Upon her return, Mrs. Williams opted to transfer to North Junior High School as a Guidance Counselor. She believed that too many "students of color" were being advised that college was not an option for them. They were being steered toward careers which only required a vocational education.

She viewed this position as an opportunity to have a real impact on students' lives. Mrs. Williams was the first Black Guidance Counselor in the Niagara Falls School District. After several years as a Counselor, the District conducted layoffs in several departments. As a result of this initiative, Mrs. Williams was forced to return to the classroom. She returned to Abate where she worked until her retirement.

Mrs. Williams has always been a proponent of continuing education and lifelong learning. During her summers and through a sabbatical leave, she earned a second Bachelors' and two Masters Degrees, the last in Guidance and Counseling.

Mrs. Williams was also active in the community. She served as a Girl Scout leader. She volunteered at the Community Center and Girls Club in a mentoring program which exposed the girls to various professional careers. Mrs. Williams went on to become a Board member and also served as Board Secretary.
She was an active member of the Niagara Falls Chapter of Links for 10 years.