Edit Current Bio
UCB is written collaboratively by you and our community of volunteers. Please edit and add contents by clicking on the add and edit links to the right of the content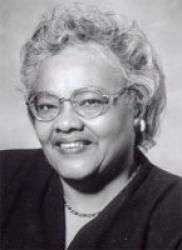 She was born in Muskogee, OK.
Basic Info
Attachments
Relations
Organizations
Accomplishments
Schools
Employers
Clinita Eloise Arnsby Ford graduated, at the age of 15, from Manual Training High School with Honors in Muskogee, Oklahoma. She completed the Baccalaureate Degree in Vocational Home Economics from Lincoln University (MO) at the age of 19. A year later at the age of 20, she received the Masterââ?¬â?¢s Degree from Columbia University (NY) in Food, Nutrition / Institution Management. The same year (1949) she joined the faculty at Florida A&M College (later University) where she worked until her retirement and is presently Professor Emeritus. In 1959 she received the PhD in Nutrition and Biochemistry from Kansas State University where she was a General Foods Fellow and graduated with Honors.

Dr. Ford is the daughter of the late Anita and Clinton Arnsby, both educators. She affectionately explains the origin of her name as a combination of her father (Cli)nton and her mother A(nita).

Dr. Ford holds many honors and awards, which include: One Hundred Outstanding People of the Century-Florida A & M University, One Hundred Outstanding Black Women Leaders-Black Issues in Higher Education, Distinguished Alumni Award-Kansas State University, Alumni Achievement Award, Honorary Doctorate and Hall of Fame -Lincoln University (MO), Teacher of the Year-Florida A & M University, Outstanding Black College Alumni Award-National Conference on Blacks in Higher Education, 1890 Centennial Distinguished Alumni Award-USDA, Inductee in the National Black College Alumni Hall of Fame, and Distinguished Service Award-American Home Economics Association. She was honored to be a selected panelist on two national video conferences on Student Recruitment and Retention sponsored by the American Association for State Colleges and Universities and by Black Issues in Higher Education. Dr. Ford is listed in Whoââ?¬â?¢s Who in American Educationââ?¬â?Whoââ?¬â?¢s Who of American Womenââ?¬â?Outstanding Educators of Americaââ?¬â?Personalities of the Southââ?¬â?Strathmoreââ?¬â?¢s Whoââ?¬â?¢s Who and American Men and Women of Science. She is a certified convention manager and a licensed real estate broker. In her retirement she enjoys being a broker associate with Keller Williams Realty in Tallahassee, FL. Additionally, she is a certified home economist, and both a registered (RD) and licensed dietitian (LD).

Dr. Fordââ?¬â?¢s professional and civic activities are recognized nationwide for her pioneer efforts. She was one of the three original authors, in 1964, of Upward Bound, a national program for support services to high risk students. She is the founder and director of the National Higher Education Conferences on Black Student Retention. She has the distinction of serving as the first African American Chair of the Florida Commission on the Status of Women.

Dr. Fordââ?¬â?¢s publications include three books Student Retention Success Models in Higher Education (1996), Strategies for Retaining Minority Students in Higher Education (1992) and Black Student Retention in Higher Education (1988). She has co-authored chapters in other books relating to minority student retention. She has lectured extensively, on issues relating to the retention of minority students in higher education, at colleges and universities across the country and at many regional and national conferences.

Currently she is on the Board of Directors of the Florida A & M University Federal Credit Union, Tallahassee Genealogical Society, North Florida International Visitors Council and Advisory Board Member of: Peoples First Community Bank, Recruitment and Retention (monthly publication), The National Retention Project of the American Association of State Colleges and Universities and Mentoring Multicultural Students in Foods and Nutritional Sciences. Former positions include: National President of the Association of Title III Administrators, National Treasurer of The Links, Inc., Senior Mentor with the Woodrow Wilson Administrative Fellows Program, and Local Outreach Educator with the Institute of International Education.

Dr. Ford is married to James R Ford, Sr., retired educator, Tallahassee, Florida's first Black elected official and three times Mayor of the City of Tallahassee. They have three adult children, eight grandchildren and one great-grandchild. In her personal time, Dr Ford enjoys reading and international travel. She has visited several continents and many foreign countries to enrich her understanding of other cultures.