History
Barbara A. Seals Nevergold, Ph.D. and Peggy Brooks-Bertram, Dr. P.H., Ph.D. founded the Uncrowned Queens Institute for Research and Education on Women, Inc. in 1999. Initially established as a project of the Women's Pavilion Pan Am 2001, the goals of Uncrowned Queens were to commemorate the history of African and African American involvement in the Pan American Exposition of 1901 and to recognize and celebrate the accomplishments and contributions of African American women during the period of and in the one hundred years since the fair. Drs. Bertram and Nevergold quickly realized that the magnitude of the project and the significance of their efforts to collect, disseminate and archive the histories of African American women and the local African American community represented a major undertaking of a regional history project that required the establishment of a sustainable organization.
Thus their work led to the incorporation of the Institute and the adoption of the mission statement: "to conduct research on the issues affecting women of color, to use this research to develop educational programs that will enhance the quality of life for women and their communities, to promote the collection and dissemination of the individual histories of women, women's organizations and women's collective history and to teach and educate women on the use of technology to preserve and disseminate their histories." In 2003, the Institute was formally recognized as a 501 c (3) organization by the Internal Revenue Service. The Institute is governed by an eleven-member Board of Directors comprised of community leaders.
During its eleven year history, the Institute has developed and implemented an award winning website with its signature "techno-pedia", expanded its mission to include African American men, "Uncrowned Kings", produced four books and several articles related to the history of blacks in the 1901 Pan American Exposition, the 1905 Niagara Movement, the state of Oklahoma and individual and collective women's histories; sponsored three national/international conferences; developed educational curricula; launched an oral history component; participated in a host of media (electronic and print) documentaries and interviews; presented numerous community-based programs to raise awareness about the Institute; established collaborations with community, civic, educational, corporate and religious organizations and institutions; and worked toward the promotion and implementation of its model in other communities, beginning in the State of Oklahoma.
Featured Biographies
Uncrowned Community Builders is creating a searchable database of biographies that anyone will be able to contribute to and search through. Submit your biography now to be included.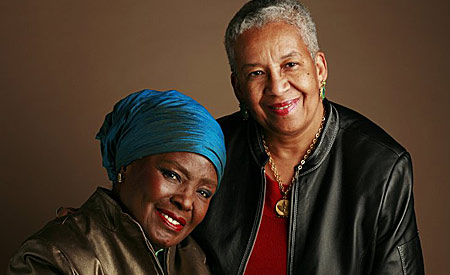 (left) Peggy Brooks-Bertram, DrPH, PhD and (right) Barbara Seals Nevergold, PhD. Photo by Cheryl Gorski
Board of Directors
John M. Staley, PhD, President
Derrick M. Byrd, Jr., Vice-President
Lillian Yvonne Bertram
Ina Doss Chapman
Shanna Crump-Owens
Pashion Corbitt-Marshall
Kevin Donovan
Alanna E. Marrow
W. David Penniman, PhD
Katie Schneider
Ayoka Tucker, Esq.