Edit Current Bio
UCB is written collaboratively by you and our community of volunteers. Please edit and add contents by clicking on the add and edit links to the right of the content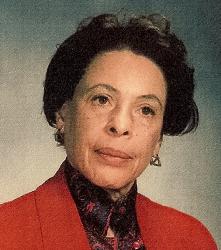 Born on 10-24-1927. She was born in Niagara Falls, NY. She was accomplished in the area of Education. She later died on 1-9-2011.
Basic Info
Attachments
Relations
Organizations
Accomplishments
Schools
Employers
Mrs. James retired as principal of the Early Childhood Center #61 and Academic Challenge Center elementary schools in Buffalo. With sixteen years of experience in running a nursery school in her home and eighteen years as a parent volunteer in the Buffalo School System, Mrs. James decided to pursue a college education. Leaving the position of teacher aide at School 37 in June 1970, she embarked on a college career in the field of elementary education. Mrs. James completed a B.S. in education in 1972 in two years and the M.S. ED the follow year, 1973. All of this was done while working as a reading tutor in the Wider Horizon Remedial Reading Program five afternoons a week and later as a teacher at the Dr. Martin Luther King, Jr. Community School.

Mrs. James' drive and motivation did not stop at the Masters level. She continued her education as a doctoral student at the University at Buffalo and Buffalo State College in the field of Learning Behavioral Disorders and Reading. In 1982, she completed her third degree in Supervision and Administration.

Mrs. James' accomplishments in education included heading Project Prevention in the Buffalo Public Schools, a project which under her leadership became a model for Title 1 generalists to develop psycho-educational teams in each assigned Buffalo school. She was an adjunct reading lecturer at the University at Buffalo's Education Opportunity Center, reading consultant for Wider Horizons Remedial Reading, consultant for both the Buffalo Public School District and area private schools.

She was a presenter for local and national conferences. She coordinated workshops for the Black Educators Conference on Inner City Schools. She co-authored two publications: James, E., Lehsten, M. MLK First Grade Screening Test, On Site Norming and Standardization of Test Instruments, Dr. Martin Luther King, Jr. Community School and James, E., J.R. Dixon, Jr. Effects of Two Intervention Strategies on the Level of Reading and Self-concept Among Intermediate Grade Black Pre-Adolescents.

Mrs. James left the King School in 1982 to become the assistant principal and then principal of the Academic Challenge Center School #6. As a reward for years of hard work, Mrs. James was named "Educator of the Year" in 1980 by the Black Educators Association of Western New York. Her biography appeared in International World Who's Who of Women, Fourth Edition in 1977, and Who's Who in America, Child Development Professionals in 1976 and 1977. Mrs. James was the recipient of the 1985 Black Achievers in Industry Award. In 1987 she received the Buffalo State College Alumni Association Outstanding Alumnus Award.

Mrs. James left the Academic Challenge Center in 1989 to take over the principal ship of Early Childhood Center #61, where she retired in 1994.

Mrs. James was married to Roscoe A. James. The couple had two children, Beverly and Douglas, seven grandchildren and nine great-grandchildren.