Edit Current Bio
UCB is written collaboratively by you and our community of volunteers. Please edit and add contents by clicking on the add and edit links to the right of the content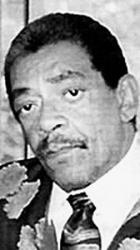 Born on 8-7-1936. He was born in Buffalo, NY. He was accomplished in the area of Community. He later died on 12-12-2010.
Basic Info
Attachments
Relations
Organizations
Accomplishments
Schools
Employers
Malcolm W. Erni, a native Buffalonian, was the son of Charles W. Erni and Ester Faulkner Erni.

At the time of his death, Mr. Erni was a minister. He answered the call to Christian service and attended Holsey College in Cordell, Georgia and the former Buffalo Bible Institute, now Houghton College in West Seneca, New York. He served as an Associate Pastor of the Good Shepherd Church in Buffalo and youth minister of the former First Evangelical United Brethren Church in Buffalo Rev. Erni was ordained a gospel minister at the Antioch Baptist Church in Buffalo, New York.

Rev. Erni "was a tremendous man, committed to his community and to the history of his people," said former Deputy Assembly Speaker Arthur O. Eve. "He tried to inform, enlighten and educate any and everybody who would listen."

Malcolm Erni was a young evangelist with Caribbean roots and a devout faith in the virtue of his African Ancestry. Mr. Erni founded the African Cultural Center in 1958, holding its first meetings on Friday and Saturday nights in a funeral home. Soon after, the group moved to the basement of a church near Glenwood Avenue. After a couple of other moves, the center moved into its current Masten Avenue headquarters, a former welding business, in the late 1960s. Mr. Erni and others led a capital campaign to raise funds to buy the property.

Although usually cash-strapped and operating out of a modest building, the center, which underwent a name change to the African-American Cultural Center emerged as the forerunner in Buffalo of African-American cultural awareness. The center provided children a sense of identity and purpose through exposure to the arts.

The East Side institution celebrated its 50th anniversary in 2008, when Mayor Byron W. Brown pointed out the center had "distinguished itself as one of the great organizations, not only in Buffalo, but throughout the Western New York area." Its Paul Robeson Theatre is the oldest black theater in Western New York. Thousands have been entertained by musicals, dramas and comedies featuring local actors.

The center's Dance and Drum Performance Company, the area's first professional black dance company, performs its West African routines before thousands throughout Western New York and is in high demand during Black History Month. The Pine Grill Jazz Reunion, a summer jazz series, has attracted thousands to Martin Luther King Park. The center also runs a summer program and an after-school program.

Malcolm also was the author of "A Time or Miracles", a copy of which is housed in the Buffalo & Erie County Library Rare Books Collection. He produced a television series entitled "Portraits of My People." Malcolm Erni was born legally blind and was considered by many as a "man who was ahead of his time".

Mr. Erni, a Buffalo native, dreamed of a cultural and spiritual sanctuary for youngsters and families on Buffalo's East Side. "He wanted to build a place where young people, especially, would be able to learn about their heritage and culture and become better individuals because of this self-knowledge," said Agnes M. Bain, the center's executive director.

"At least three generations of the Buffalo community, the children of the first children who were here, their children and sometimes their grandchildren have benefited from the vision of Malcolm Erni," she said. "Uncle Malcolm provided a lot of inspiration to me and my family," said Albert Erni, a nephew. "I would like people to remember him for his dedication and accomplishment in establishing an institution to uphold the arts and culture in perpetuity for the Buffalo community."

Survivors include a daughter, Carol Rebecca Erni, and a sister, Agnes Tucker.