Edit Current Bio
UCB is written collaboratively by you and our community of volunteers. Please edit and add contents by clicking on the add and edit links to the right of the content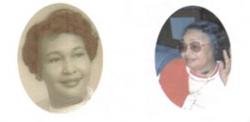 Born on 2-5-1923. She was born in Calhoun Falls, SC. She later died on 1-13-2002.
Basic Info
Attachments
Relations
Organizations
Accomplishments
Schools
Employers
Mildred Belcher Thomas was born February 5, 1923 in Calhoun Falls , South Carolina to the late Coleman and Georgie (Lee) Belcher. She was the second oldest child of ten children born to this union. She attended school in her home town where she actively played basketball. At an early age she joined Mt. Olive Church of God - Holiness in Calhoun falls, S.C.

She moved to Buffalo , New York in 1941 where her church membership was transferred to Mt. Zion Church of God - Holiness in BufÃ?­falo . She served there as an active and faithful member until her death on January 13, 2002 . In addition to her Christian service, she was also very active in the William-Emslie YMCA.

In 1942 she married the late Steve ThoÃ?­mas, her spouse for 45 years, and became the step-mother of his son, Steve Perry. She also nurtured four God-Children as if they were gifts given from God.

Mildred was the first African AmeriÃ?­can female to qualify as a bus driver in Buffalo . She retired from the Niagara Frontier Transit Authority in 1984 afÃ?­ter 40 years of employment. During her tenure at the N.F.T.A., she received numerous awards; a 12-year Safety Emblem; and then after 18 years of service she received Sales Person of the Month Award. This selection was based upon an outstanding record of safe driving, prompt service and courtesy on behalf of the bus riders. Upon retirement, she received a reward for 30 years of safe driving.

Mildred, while having no children of her own, was a role model and moral standard for her numerous younger nieces, nephews, and cousins who knew her as a good Christian woman and peace maker.