Edit Current Bio
UCB is written collaboratively by you and our community of volunteers. Please edit and add contents by clicking on the add and edit links to the right of the content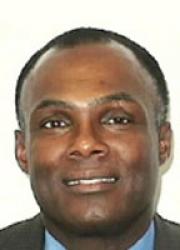 He was born in Buffalo, New York.
Basic Info
Attachments
Relations
Organizations
Accomplishments
Schools
Employers
Bernard A. Tolbert is a Senior Vice-President in the National Basketball Association where he is responsible for the security of all League operations including arenas, players, staff and fans. In addition, the NBA has offices in ten countries around the world and Bernie Tolbert is responsible for the security of those offices. Bernard A. Tolbert is a native of Buffalo. He is a graduate of the Buffalo Public School System. In 1971, he completed a Bachelor of Science degree in Social Work at the University of Buffalo, followed by a MSW also from the University at Buffalo in 1973. During his undergrad years at U.B., Tolbert was a track star, who was named to the Athletic Hall of Fame in 1988. Tolbert taught a class of boys with learning and behavior disorders for one year at Bennett High School. Although he did not have a teaching degree, he was hired for this class based on an extensive experience working with special needs children. He gained much of this experience from working at Cradle Beach every summer from 1965 to 1980. From 1975 to 1980, Tolbert worked as a social worker for several Western New York agencies, including People, Inc., West Seneca Developmental Center and Child & Family services, Inc.

In 1980, he joined the Federal Bureau of Investigation (FBI). Following sixteen weeks of training at the FBI Academy in Quantico, Virginia, he served in various street-level investigatory activities in the Buffalo and New York City Field Offices. In June 1985, he was transferred to FBI Headquarters in Washington, D.C., as a Supervisory Special Agent in the Intelligence Division. In March 1987, Tolbert was transferred back to the Buffalo Division, where he supervised all Foreign Counterintelligence, Counterterrorism and Civil Rights investigations in the Western New York area. In November 1990, Tolbert was reassigned as Chief of the Counterintelligence and Counterterrorism Training Unit in the FBI Headquarters until October 1992. At this time, he was appointed to the position of Assistant Special Agent in Charge of the Philadelphia Office. In January 1997, Tolbert was promoted and assigned as an Inspector in the Washington Headquarters Inspection Division, before returning to Buffalo in May 1998, as the Special Agent in Charge of that city's Division. He retired from the FBI in March 2001. After his retirement from the FBI, Tolbert worked as a Corporate Security Manager for the Coca-Cola Company in Atlanta, Georgia. He moved to the HSBC Bank USA, in Buffalo, New York as the Senior Vice President, Corporate Security, with responsibilities for the security of all operations for HSBC Bank in the United States and Mexico. In late 2002, he was hired as the Senior Vice President, Security, National Basketball Association, New York.

Tolbert has been the recipient of many awards, including twice receiving the Black Achievers in Industry Award, the Heroes of Public Housing Award and the Ebony and Ivory Award. In June of 2001, Tolbert was the recipient of the Presidential Rank Award for Meritorious Achievement as one of the U.S. Government's top Senior Executive, an honor bestowed upon him by the White House. In 1998, he was elected to his college's Athletic Hall of Fame. He is an avid Buffalo Bills fan and has been a season ticket holder for many years. Much of his free time is spent in activities for children with special needs. For the past 47 years, he has been involved with Cradle Beach a resident summer camp that serves over 800 campers in the Western New York area who have a broad range of physical, emotional and social developmental disabilities. He has been a Little League baseball, basketball and soccer coach as well as an umpire and referee.

Tolbert has served on the Boards of numerous community organizations, including: the United Way of Buffalo & Erie County, Medaille College, Cradle Beach Camp, 100 Club of Buffalo and Western New York, Erie County Department of Youth Services, Kids Escaping Drugs, Bridge To Building Community, the State University of New York at Buffalo Alumni Association and the Blue & White Club. He currently serves on the boards of the Western New York Public Broadcasting Association, the Olmstead Conservancy and is Chairman of the Board of Trustees of the Statler Foundation. Although his job requires him to be located in New York City, Bernie is a big Western New York booster and considers Buffalo his home. Mr. Tolbert is the father of three children. Eric and Nicole are teachers in the Buffalo Schools and Alex is a college student in Buffalo.