Edit Current Bio
UCB is written collaboratively by you and our community of volunteers. Please edit and add contents by clicking on the add and edit links to the right of the content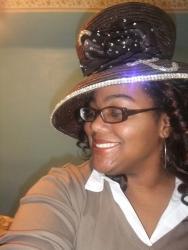 Born on 2-19-1995. She was born in Buffalo, NY.
Basic Info
Attachments
Organizations
Accomplishments
Schools
Employers
Minister Breonna D. Kirkland was born Sunday February 19, 1995 to Mr. Haywood & Mrs. Crystal Kirkland. She is third generation Apostolic and a product of the Greater Emmanuel Temple Church. Minister Kirkland was baptized in Jesus' name at the age of 6 years old and was filled with the Holy Ghost at the age of 9. Just a few years ago she answered the call of God, preached her first sermon entitled the "Lord is my Shepherd and....."
She has been an active member of the Ministerial Alliance of her church for the past two years. Minister Breonna as she is fondly called has always been active in ministry. She is a former vacation Bible school teacher, anointed praise dancer and former Sunday school teacher. She is also a former contestant of the Young Miss Buffalo pageant- winning best interview and telecommunications. She was also a 2009 graduate of community school # 53 which she helped fight to keep open and also a community # 53 alumni Inductee.
Currently Minister Kirkland is attending the Buffalo Academy of the Visual & Performing Arts where she studies theater. Breonna is PAW NYS certified to teach Sunday school. She is also a proud member of the Zeta Iota Chi Christian Sorority Inc. where she currently serves as Chiette President. She was been very active in the community as well such as doing volunteer work for AIDS community services, food banks and many others. Finally Minister Breonna Kirkland loves music, texting, reading and writing. She is often asked how can you be a teenager and be in ministry and she replies: "Being a minister does not change who I am, it's just a part of what I've been called to do!"

Katherine Alexander Kirkland - Aunt