Edit Current Bio
UCB is written collaboratively by you and our community of volunteers. Please edit and add contents by clicking on the add and edit links to the right of the content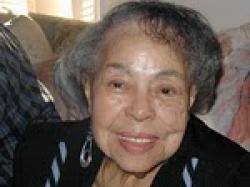 Carol Maunee Smitherman Martin
Born on 12-22-1912. She was born in Muskogee, OK. She later died on 5-30-2010.
Basic Info
Attachments
Relations
Organizations
Accomplishments
Schools
Employers
A native of Muskogee, Oklahoma, who later moved to Tulsa, Oklahoma, Carol Maunee Smitherman Martin, was the daughter of Andrew Jackson and Ollie B. Smitherman. She was born on December 22, 1912 and was the second oldest of six children. In 1921, Carol was forced to flee Tulsa, with her family, as a result of one of this nationââ?¬â?¢s deadliest race riots. Her father, who was the editor and publisher of the Tulsa Star, lost his business and home valued in excess of $40,000. An outspoken and fearless advocate for the rights of Black people, Smitherman was indicted as an inciter of the Race Riot. A warrant was issued for his arrest and extradition back to Oklahoma. However, he never returned to the state. The family relocated to Buffalo, New York in 1925 where he started another newspaper, "The Empire Star".
Carol was raised and schooled in Buffalo. She graduated from Masten High School. She met and married Wilbur Dozier of Niagara Falls and five children would be born to this union ââ?¬â?? Carol Ann (Kara), Richard Kevin, Diane Elyse (Diana), William Clarence (Bill) and Shirley Ethel (Shirlee). After a subsequent divorce, she married Hamilton (Duke) Embrose and they brought Judith Embrose (Judi Mabra) into this world. Carol worked a variety of jobs raising these six challenging children, often by herself and primarily as a single mom. She worked many years at the Erie County Public Library in Buffalo, New York, a position she absolutely loved.

She later moved to New York City where both she and Duke worked at the New School of Social Research on Fifth Avenue. They lived in the Bronx, overlooking Yankee Stadium, and immensely enjoyed the many years there. After Hamilton passed, Carol soon moved to Fayetteville, North Carolina where daughter Diana was living and where daughter Shirlee would soon move. Carol retired and lived alone, driving every day and working as many as three volunteer jobs at a time. She worked as an Information Aide at City Hall, a volunteer with The Ladies Auxiliary at Cape Fear Valley Hospital and also did volunteer work helping to care for the 'elderly' well into her 90's. While in Fayetteville she met and married Rev. Martin and they shared life for several years. After losing her ability to drive safely, she moved into Shirleeââ?¬â?¢s home in Fayetteville where she lived and loved life until she moved to Cleveland with another daughter. After her retirement she continued to travel extensively, often alone and by bus, to enjoy her family and friends. She was a member of Maddock Memorial AME Church in Fayetteville.

As one of the last survivors of the 1921 Tulsa Race Riot, Mrs. Martin received numerous citations and recognitions from the states of Oklahoma and North Carolina. The City of Fayetteville, North Carolina dedicated a permanent, Special Day (April 12) in her honor. She is one of the survivors featured in a book by Eddie Faye Gates, Riot on Greenwood: the Total Destruction of Black Wall Street. Race Riot survivors recount their stories of the events that occurred on May 31st and June 1st, 1921.
She was the grandmother of ten, great grandmother of 16 and great-great grandmother of one.

Mrs. Martin died on May 30, 2010 at the age of 97.