Edit Current Bio
UCB is written collaboratively by you and our community of volunteers. Please edit and add contents by clicking on the add and edit links to the right of the content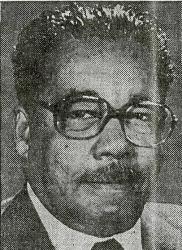 He was born in Buffalo, NY. He was accomplished in the area of Politics. He later died on 1-23-1986.
Basic Info
Attachments
Relations
Organizations
Accomplishments
Schools
Employers
Mr. Michaux was a city official who spent 23 years in public service. He was long active in politics and community affairs. He became Buffaloâ??s first Parking Violations Bureau director in 1974. He entered public serve in 1956 as the first black appointed to a permanent civil service position in City court, where he served as a junior court clerk. He advanced to senior court clerk and then to principal court clerk. After four years as Parking Violations Bureau director, he returned to City court until his retirement in 1979.

A Buffalo native, Michaux was a graduate of School 31 and the former Hutchinson Central High School. He received a bachelor's degree from the University at Buffalo. After retiring from City court, Mr. Michaux continued graduate work in political science and began teaching part time as an assistant professor at Erie Community College. He was also a senior instructor with the Erie county Department of Public Safety from 1973 until his death.

He served in Italy during World War II, earning the Silver and Bronze stars, the Combat Infantrymanâ??s Badge and the Purple Heart. In 1950-51, he saw action in the Korean War as a general staff officer of operations and training. He retired in 1971 as a lieutenant colonel after 30 years in the Army Reserve and received the New York State conspicuous Service Medal.

A veteran of Democratic politics, Michaux resigned in 1983 as party chairman in Buffalo's 24th Zone, a post he held for 20 years. He was a former member of the Erie County Democratic Executive Committee for 15 years and a former Democratic committeeman for 25 years.

While active in many community affairs, Michaux received the Silver Beaver Award, the highest community award given by the Boy Scouts. He made history with the Boy Scouts in 1932 as the first black Eagle Scout. He was a member of the executive board of the Boy Scouts of America, chairman of the council advancement committee of the Boy Scouts of America and local chapter chairman of the national Eagle Scout Association.
He also was secretary of the Buffalo Naval and Servicemen's Park board of directors. He was honored as a distinguished president of the West Side Kiwanis Club and distinguished past lieutenant governor of the New York State Kiwanis, Niagara Frontier West Division. He also served on the congressional selection committee for all service academies. He was a past commander of Bennett Wells Post 1780, American Legion, and past director of the Allentown Association. He was a member of the NAACP, the Urban League, the Retired Officers Association, the National Eagle Scout Association and the Allentown Village Society.

He was local chapter chairman of Judges and Police Executive Conference of Erie County, New York Inc., a member of the National Association of Court Administration, American Society for Public Administrators, Driver and Safety Educators Association of the State of New York, the American Judicature Society and the Police Studies Organization of the University of Illinois.

Michaux was married to the former Maria Rebasti for 42 years and the couple had two daughters, Bruna and Ramona Draffin and two sons, Charles L. III and John, and four grandchildren. Michaux died on January 23, 1986. Mr. Michaux is buried in Ridgelawn Cemetery.