Edit Current Bio
UCB is written collaboratively by you and our community of volunteers. Please edit and add contents by clicking on the add and edit links to the right of the content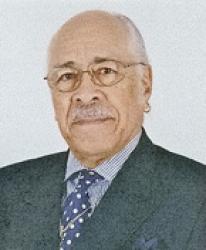 Born on 11-28-1929. He was born in Buffalo, NY. He is accomplished in the area of Politics.
Basic Info
Attachments
Relations
Organizations
Accomplishments
Schools
Employers
Clifford Bell was born on November 28, 1929 in Buffalo, New York as one of seven children to the late Emmett and Thelma Bell. Throughout his life, he has been known to the people of his community as Brother Bell. This nickname goes to the heart of Bell's philosophy and attitude toward God and his fellow man. "Brother Bell", he has contributed to the Western New York Community as an activist, entrepreneur, public servant, author, business advisor, mentor, and as a member of the Lutheran Church of Our Savior.

Bell started two business ventures in Buffalo, having successfully owned and operated both a dry-cleaning service and a sporting goods store. He built upon his entrepreneurship savvy and used this knowledge to contribute to economic growth within the community and beyond. He has served as a Senior Advisor of the Small Business Development Center at Buffalo State College, Director of the Buffalo Economic Renaissance Corporation, and in various capacities as a business mentor. In 1998, as a representative of the Mayor of Buffalo, Bell led a delegation of 55 people to Lille, France to personally represent five Buffalo businesses in international trade.

For over a decade, and what many may know him for, Bell served as a Council Member-at-Large. His service extends even beyond this position. He founded the Buffalo African American Museum, a traveling and growing exhibit showcasing local African American history. As a community activist, he provides leadership in stewarding preservation of the legacy of Dr. Martin Luther King, Jr. To this end, he spearheaded the construction of the Dr. Martin Luther King Jr. Memorial Bust in MLK Park with the Buffalo Olmsted Parks Conservancy. Bell has also assisted as chairman of the MLK Trust Fund's Celebration Committee for over 30 years. In February of 2021, he helped to create a collaborative exhibit and video series between the Buffalo Olmsted Parks Conservancy and the Buffalo African American Museum titled "Making of a Monument". This project chronicles the legacy of the Dr. Martin Luther King Jr. Memorial Bust.

Brother Bell is an engaged member of his church, the Lutheran Church of Our Savior. He has served in numerous capacities at the church since 1955, including congregation president, Deacon Board chairman, and Evangelism Committee chairman. He is also a poet, publishing a book of poetry titled A Full Life, which draws inspiration for his relationship with faith, family, and life.

Among his numerous awards and distinctions are the NAACP's Medgar Evers Award, the Martin Luther King, Jr. Seniors Award by the New York State Governor, Buffalo Urban League's Evans-Young Award, and recognition by the Erie County Legislature, New York Senate, New York State Assembly, U.S. Congress and the Buffalo and Erie County Library for his years of public service. Bell is also recognized as an Uncrowned King as part of the Uncrowned Community Builders. Clifford Bell has received the highly honored title of Paramount Chief of the African World, performing libation ceremonies in English, French, and Spanish.

Brother Bell has been married to Helaine Tucker for over 66 years and they have two children, three grandchildren, and five great-grandchildren. Bell believes in fairness and equity for all people, bringing his passion for civil rights to any challenge he has faced over the years. He continues to serve as an engaged community member treating all with fairness, living by his motto "This Bell tolls for the People".