Edit Current Bio
UCB is written collaboratively by you and our community of volunteers. Please edit and add contents by clicking on the add and edit links to the right of the content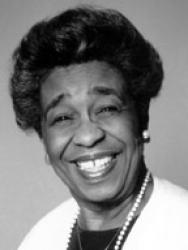 Earline Audrey Tillman Collier
Basic Info
Attachments
Relations
Organizations
Accomplishments
Schools
Employers
Earline Audrey Tillman-Collier, a young and energetic mother of two children, Darryl LaRue and Sibyl Pearl, joined her husband, Tolliver, in Buffalo from Houston, Texas. In less than one year, she was a volunteer substituting for the pianist at the Calvary Baptist Church where the Reverend Peter Trammel was Pastor.

Her family lived on Cedar Street across from the Buffalo Urban League where she became an active volunteer. She had a brief working relationship with the Women's Guild during the presidency of Cora P. Maloney.

In the early 1950s, Mrs. Collier and Genevieve Kelly were two of seven women who founded the Bronze Damsels Civic, Philanthropic Social Club. These dynamic women made a significant cultural difference in the city and were first to honor and spotlight "First Blacks" such as Ensa Poston, the first black Civil Service Commissioner of New York State; Dr. George Blackman, the first black Surgeon at Roswell Park Cancer Institute; Dr. Claude Clapp, the first black Assistant Principal of a Buffalo Public School; Arthur O. Eve, the first black Deputy Speaker of the New York State Assembly; Eddie Ownes, the first black Manager of National Fuel; Jacqueline Curry, the first black Air Traffic Controller; and many more. Under Earline's leadership the Club paid a semester's tuition at Nichols School for a gifted, intelligent, young black student.

Her community service continued as she chaired many important committees. As president of the Women's Auxiliary of the Buffalo Branch NAACP, she expanded the group from fifty to sixty members, organized a potluck fundraiser that was attended by more than three hundred people, and held another major fundraiser in the Top of the Town Restaurant. The Auxiliary also was responsible for the Fight for Freedom Fund Assessment.

Earline also chaired an ad-hoc committee to raise funds for the United Negro College Fund and presented a $5,000 check to the organization on the Channel 4 UNICEF Telethon. She chaired a committee called Surviving the 1977 Blizzard to raise funds for 1490 Senior Center. She also created a mail-a-thon to various clubs that sought donations to purchase a fax machine for the Center.

Mrs. Tillman-Collier was the co-founder of the Harriet Tubman 300's and served as President for twenty-one years. Under her leadership this group of ladies hosted many community events and endeavored to perpetuate the spirit of Harriet Tubman.

She served for five years on the advisory board of the New York State Office of the Aging and was the Western New York African American delegate to the White House Conference on Aging. She filled Kleinhan's Music Hall twice as the Hypothermia Lady, teaching seniors how to survive hot or cold weather.

Earline was an excellent leader who worked endlessly to achieve her goals. She was a much sought-after Women's Day Speaker and fashion commentator. She was a Task Force member working to establish the Erie County Commission on the Status of Women and also served as Chair of the Erie County Department of Senior Service Advisory Board.

Mrs. Tillman-Collier was recognized and honored by numerous community, civic, governmental, and human service organizations such as the Phyllis Wheatley Club of Colored Women, Mary B. Talbert award; Sojourner Truth (Business and Professional Women); Alpha Kappa Alpha Sorority, Inc., Gamma Phi Omega Chapter; Zeta Phi Beta Inter Club Council; University at Buffalo University Women; YWCA; Bethel Church (Human Service) Black Educators Association; NAACP (Human Relations); Network on Aging (New York State); Bison Assembly #48; Zonta Club of Amherst; and Lincoln Memorial United Methodist Church.