Edit Current Bio
UCB is written collaboratively by you and our community of volunteers. Please edit and add contents by clicking on the add and edit links to the right of the content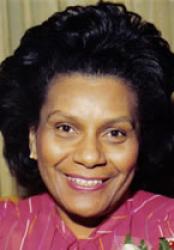 Born on 12-16-1929. She was born in Culpepper, VA. She later died on 8-13-2003.
Basic Info
Attachments
Relations
Organizations
Accomplishments
Schools
Employers
Grace Lee White was born on December 16, 1929 in Culpepper, Virginia. She was the fifth of nine children born to Bertha Carter White and Frank White. Grace graduated from East High School in Rochester, New York. After high school, she married and moved to Buffalo, New York, where she had three lovely children.

In 1981, Grace met and married John E. Tobias. Grace and John were happily married and celebrated their 21 st. anniversary in August of 2003.

Higher education was always a driving force in Grace's life. She attended Erie Community College and D'Youville College. She became a certified medical secretary, later adding certification as a coder. Grace retired from Buffalo General Hospital in 1992 after 25 years of service. After her retirement she began a second career as an associate at the Bible Society of Western New York. She worked there until July 2002 when illness prevented her from continuing.

In 1984 Grace joined Genesis Community Church, under the leadership of Rev. Tommie Pressley. While at Genesis Community Church, she was elected Church Secretary, later Deaconess, as well as President of the Women's Auxiliary. Grace moved to Pleasant Grove Baptist Church in 1992, under the leadership of Rev. Joe L. Fisher, where she became Vice President of the Missionary Ministry. Grace loved being a part of such spiritual organizations. It was her desire to study and learn all she could about God.

Grace was the proud parent of Andrew, Duane, Denise and Elaine, thirteen grandchildren and 18 great grandchildren. Grace Lee Tobias died on August 31, 2003 and is interred at Forest Lawn Cemetery.