Edit Current Bio
UCB is written collaboratively by you and our community of volunteers. Please edit and add contents by clicking on the add and edit links to the right of the content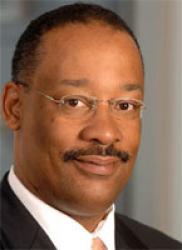 He was born in Olean, NY.
Basic Info
Attachments
Relations
Organizations
Accomplishments
Schools
Employers
John V. Elmore is the recently appointed chairman of the Eight Judicial District Attorney Grievance Committee. Johan has more than 20 years experience in criminal and civil trials in State and Federal courts and in commercial litigation. Prior to entering private practice, John, a former New York State Trooper, served s a Manhattan Assistant District Attorney and New York Assistant Attorney General. He is a partner in the firm, Harter Secrest & Emery LLP.

John serves as relationship partner for the Buffalo City School District for the Districtâ??s Phase III $100,000,000 reconstruction project. The overall project involves reconstruction or additions to 9 city schools, a district-wide technology project and an energy performance contract.

John is a graduate of Mansfield State University where he received a B.S. degree. He earned a J.D. from the Syracuse University College of Law. John is a member, United States Magistrate Selection Committee for the United States District Court for the Western District of New York; a life member of the NAACP; Board member of the Bar Association of Erie County; and participant, New York State Commission Indigent Care. He has formerly served as Board member of the Buffalo Branch NAACP; Erie County Bar Association Judiciary and Nominating Committee; William-Emslie YMCA and former participant in the Omega Psi Phi Fraternity mentoring program. He is also the past president of the Minority Bar Association; and former participant, the Omega Psi Phi Fraternity mentoring program.

Elmore has been the recipient of numerous awards and honors including: Parents Magazineâ??s Good Neighbor Award; NAACP Medgar Evers Civil Rights Award; Phenomenal Fatherâ??s Award by Ebony Magazine; Minority Bar Association Community Service Award; Erie County Bar Association Community service Award; Erie County Bar Association Criminal Justice Award; Buffalo News Citizen of the Year; YMCA Toast of Buffalo Award; Forty Under Forty recognition by Business First; Mansfield University Society of Honors; Olean high school Academic Wall of Fame.

John is an author of â??Fighting for Your Life: the African American Survival Guideâ?, which addresses the issues of Blacks, especially young people, and the criminal justice system. As a result of his book, he is in demand for speaking engagements, radio and television programs. He was a guest on the Tavis Smiley Show.

John and his wife Redahlia are parents of a blended family that includes four children, Twilla, Justin, Kristen and Sonya.