Edit Current Bio
UCB is written collaboratively by you and our community of volunteers. Please edit and add contents by clicking on the add and edit links to the right of the content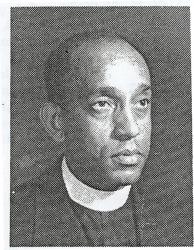 Kenneth Stewart Lee Curry
Born on 8-15-1924. He was born in Canton, OH. He later died on 2-27-1990.
Basic Info
Attachments
Relations
Organizations
Accomplishments
Schools
Employers
Father Kenneth Steward Lee Curry was born August 15, 1924 in Canton, Ohio. His parents were the Reverend Theotis Curry and Carrie Estella Mitchell Curry. He attended elementary school and graduated with honors from McKinley High School in Canton. He attended Wayne University and earned a Bachelor of Science Degree from Wilberforce University, in Wilberforce, Ohio. Inspired to continue his education, he received a Masters of Divinity from Seabury Western Theological Seminary. He was ordained to the diaconate and the priesthood of the Episcopal Church in the diocese of Chicago, Illinois.

In 1948, Father Curry was united in holy matrimony with Dorothy Ada Strayhorne of Yonkers, New York. To this union two children were born, Michael Bruce and Sharon Adrienne. Rev. Michael followed his father into the priesthood.

During his ministry, Father Curry served as Priest of St. Simon of Cyrene in Maywood, Illinois, Rector of St. Cyprianâ??s in Detroit, Michigan, Rector of St. Markâ??s in Suffolk, Virginia and for seventeen years as Rector of St. Philip's Episcopal Church of Buffalo, New York. While Rector of St. Philip's Buffalo, he was the Dean of Central Erie Deanery and served as Chaplain at Emergency Hospital. Before his retirement he served as Supply Priest for a number of parishes in the Diocese of Western New York, as well as the Diocese of Southern Ohio. During the 1970s Father Curry served as Commissioner of Human Resources for the City of Buffalo and later as Director of Human Relations.

In 1958 Father Curry established the St. Philip's community Center which continues to provide vital services to the youth of the community. For a number of years Father Curry taught as a substitute teacher in the Buffalo Public School System. Father Curry served as a member of the board of Managers for the Towne Gardens Development Corporation. Curry Walk of that development was named in his honor.

He was a member of Phi Beta Sigma Fraternity.