Edit Current Bio
UCB is written collaboratively by you and our community of volunteers. Please edit and add contents by clicking on the add and edit links to the right of the content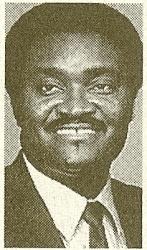 Born on 4-18-1954. He was born in Umuna, Orlu, Imo State. He later died on 2-16-2005.
Basic Info
Attachments
Relations
Organizations
Accomplishments
Schools
Employers
Michael Ezie was born Paschal-Michael Chigozie Ezie in Nigeria on April 18, 1954. He completed Catholic elementary school and high school in Orlu before coming to the United States in 1971. He received a bachelor's degree in business education from Northern Kentucky University and a master's degree in business administration from the University of Cincinnati.

Mr. Ezie began his career as a unit coordinator at Cincinnati General Hospital and later was an accountant and auditor at Coopers Lybrand in Cincinnati. He returned to Nigeria in 1981 to join the National Youth Corps fulfilling the mandatory civil service duty required of all Nigerian college graduates. He subsequently became general manager of his family's business.

In 1983, he married Dr. Leslie Ellen Clapp of Buffalo. The couple met in Cincinnati. He was fiscal director, comptroller and then chief executive officer of the Geneva B. Scruggs Community Health Care Center before becoming corporate director of government programs at Blue Cross Blue Shield of Western New York.

In 1988, Mr. Ezie helped organize his wife's medical practice, which became Main Pediatrics. He was a founding member and first president of the Nigeria Association of Buffalo, co-chairman of the New York State AIDS Delivery consortia, co-chairman of the Health Systems Agency of Western New York Infant Mortality Task Force, past chairman of the Community Health Care Association of New York State's Finance Committee and vice chairman of the Grace Manor Nursing Home board of directors.
He was a member of the New York State Public Health Care Association, Health Care Reform Commission of Western New York, Buffalo Community Health Plan board, Leadership Buffalo, Class of 1990, NAACP, WBFO Radio Advisory board and Assembly Speakers Health Care Advisory Board.
Mr. Ezie received the distinguished Service Award of the state Health Department's AIDS Institute, Black Achievers in Industry Award, Erie Community College Ebony and Ivory Award, National Medical Association Community Service Award, Alpha Kappa Alpha Sorority Health Service Award and Agape African Methodist Episcopal Church Outstanding Executive Management and Administration Award.

A devoted family man, he was proud of his daughters, Chinyere, Kelechi,and Chisara and his son, Chiemeka.

Mr. Ezie died February 16, 2005. He is buried in Umuna, Orlu, Imo State, Nigeria.