Edit Current Bio
UCB is written collaboratively by you and our community of volunteers. Please edit and add contents by clicking on the add and edit links to the right of the content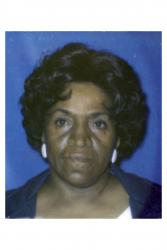 Basic Info
Attachments
Relations
Organizations
Accomplishments
Schools
Employers
Ora Wrighter is the daughter of Owen and Alberta Perry. Ora attended and graduated from the Buffalo Public Schools. She also attended the Hartwick Seminary. At the time of her death, she was a student at Medialle College.

She was known as a person who was community oriented, ââ?¬Å?A Fighter for the People,ââ?¬ involved with many grass-roots organizations. She was often seen at meetings in the community fighting for the rights of the poor. Her organizational affiliations were numerous and made her active not only in the minority community but in the community at large. Many organizations sought her expertise. As a result, she was a member of, and consultant to many community organizations and boards. Some of her heaviest assignments included serving as Commissioner of the Buffalo Municipal Housing Authority Board of Directors and Vice President of the Community Board of the Sheehan Memorial Emergency Hospital.

Mrs. Wrighter was also affiliated with numerous organizations including the 7th District Planning Board; the Advisory Board of the Jesse Nash Community Health Center; New York State Urban Development Corporation Community Advisory Committee for the Urban Development Corporation-Ellicott Neighborhood Advisory Committee Ellicott Housing; and the Steering Committee for Buffaloââ?¬â?¢s Model Cities Program. Ora had a long and impressive history with some of the most important social agencies of the 1960ââ?¬â?¢s and 70ââ?¬â?¢s.

Ora received may citations for her dedicated and untiring service to the community. Some of them included a Distinguished Service Award from Mayor Joseph A. Sedita for her service to the Model Cities Program; Certificate of Achievement from the State University of New York; a Certificate of Merit from the Ellicott District Coalition of Agencies; a Certificate of Achievement from the Community Action Institute, New Haven, Connecticut. She was also a dedicated staff member of the Community Action Organization, Inc., where she gave long hours of service to those in need of assistance. A lasting legacy is the honor by her community where a street was named after her in the Ellicott Town Center Complex.

The Ora L. Wrighter Memorial Fund was established in her name at the Sheehan Memorial Emergency Hospital. Her daughter JoAnn C. Peters is also an Uncrowned Queen.