Edit Current Bio
UCB is written collaboratively by you and our community of volunteers. Please edit and add contents by clicking on the add and edit links to the right of the content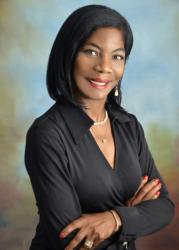 She is accomplished in the area of Media.
Basic Info
Attachments
Relations
Organizations
Accomplishments
Schools
Employers
Sheila L. Brown, Manager and Principal Owner of Visions Multi Media Group, LLC, is a visionary leader and a history-making business executive. Brown fulfilled her longtime dream of owning a radio station, becoming the first African-American female to do so in Buffalo, NY.

Brown's uncanny knack for securing clients' successes was evident from the moment she set foot inside WUFO studios in 1986 at the young age of 21. Hard working, eager and willing to learn, in a short period of time, she thrives, skyrocketing to the top of the sales pool at WUFO, outselling her colleagues and becoming Sales Manager. Brown's faith, determination, tenacity and never-say-never attitude are responsible for the heights to which she has climbed in her career and business.

In the late 90s, Brown branched out, launching her own ad agency Visions Multi Media Group (VMMG) which is the parent company of her business today. Although her business was thriving, the call to WUFO could not be quieted. In 2006, she returned to the station and was soon promoted to General Manager tackling the day-to day operations for the 53-year old legacy station. Her desire to one day own the station remained. Through prayer and preparation, that day has finally come.

Brown has big plans for WUFO which is now located in Broadway's Historic District. Future plans include expansion into television and print, broadening the influence of the award nominated media enterprise and bringing it up to date with the demands of the 21st century. Leveraging her extensive radio and television experience at Channel 4, WBLK, AM 1400, and through various partnerships with major corporations, Brown has the tools to grow and develop an influential media brand.

Mrs. Brown is the wife of Kenneth Brown, they have 3 children, and Mrs. Brown is the youngest of three siblings.

On October 29, 2015 Sheila Brown released her first book entitled ""29 Years of Preparation"" a guide book to making your epic dream come true. In the book it talks about how Mrs. Brown fulfilled a longtime dream of owning a radio station, becoming the first African-American female to do so in Buffalo, New York. 29 Years of Preparation helps get you started on the road to success with prayer and a guidebook to help your dreams come true. Building a career in the radio industry involves preparation, drive and much faith according to Sheila L. Brown, In 29 Years of Preparation you will see up close what it takes to achieve new level of success.