Edit Current Bio
UCB is written collaboratively by you and our community of volunteers. Please edit and add contents by clicking on the add and edit links to the right of the content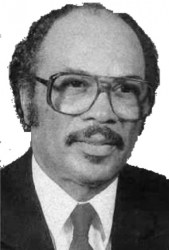 Born on 4-7-1933. He was born in Florence, AL. He was accomplished in the area of Religion. He later died on 8-7-2001.
Basic Info
Attachments
Relations
Organizations
Accomplishments
Schools
Employers
When I first heard the topic "African American Ministers and Religious Leaders in Western New York," I automatically thought of the pastor of my church, St. John Baptist Church of Buffalo, New York. Even though he has been deceased for almost two years, Rev. Dr. Bennett W. Smith, Sr.'s vision is still vivid in my mind. His vision for greatness may be the reason why he chose as his theme " More Excellent Way."

Rev. Smith was raised in a small town in Alabama. His greatest influences while growing up included his mother and his grandmother. Soon after he left home, Rev. Smith joined the Air Force to work for his country. He spent 4 years working in the Office of Special Investigations. After that he went to Tennessee State University to receive his degree in education. Even before he had received his calling, Rev. Smith had aspirations to teach others and spread knowledge.

When Rev. Smith did receive the calling, he preached his first sermon at Union Baptist Church in Chicago. The sermon was entitled "The Hour of Decision." He went on to be ordained into the ministry under Rev. Vencheal Booth at Zion Baptist Church in Cincinnati. He then moved on to become the pastor of First Baptist Church Mount Auburn also in Cincinnati.

After the death of St. John's founding pastor. Rev. Bernie C. McCarley, in 1972, Rev. Smith was called to Buffalo. After his arrival, the church experienced major growth. When he first came, St. John consisted of the sanctuary and the basement. But, after time, a second floor was added for the Sunday school, and the building expanded to house St. John Christian Academy. The Academy was just one of his projects that were brought to St. John. In order to follow his dream of spreading knowledge to the youth included Project Gift, a Baptist Youth Fellowship and a Youth Church Program. Other programs included Board of Christian Education, Senior Citizen Fellowship, Women's Ministry, Single's Ministry, Prison Outreach Ministry, the Male Chorus, the United Choirs of St. John, the Radio Choir, and a radio and television broadcast. Also, instead of one worship service Rev. Smith introduced the early Morning Prayer Band which grew into the 8:00 am Early Morning Worship Service, inspiring other churches to do the same.

Rev. Smith not only influenced local churches, but he also influenced religious communities from around the nation. When he served as the President of the Progressive National Baptist Convention (PNBC), he organized the International Region, including churches from South Africa , Cuba , the Caribbean , and the United Kingdom . The PNBC grew to 1.6 million members.

Rev. Smith was much more than a leader in the ministry; he was also a leader in the community. He worked hard in order to benefit the people of this area. Under his leadership, St. John has put to life several projects. St. John Christian Academy is a Pre-K through 8th grade school that encourages children to do their best. Another one, McCarley Gardens, is a housing project consisting of 150 units to house low income families. The St. John Senior Citizens Towers, which also consists of 150 units, assists senior citizens. The St. John Federal Credit Union was made to consolidate other credit unions that weren't able to exist on their own. His last project was the Rev. Bennett W. Smith, Sr. Family Life Center, which was made to meet the many needs of the community. The 3.6 million dollar Center houses the Academy, a community health clinic, tutorial programs, and a gymnasium for athletic activities. Even though the Center was completed shortly after his death, Rev. Smith always had a vision of the project, which he called 'Building to the Glory of God.'

He was also actively involved in social and political issues. His actions have affected the lives of all of us. During the Civil Rights Movement, he worked with the late Rev. Dr. Martin Luther King, Jr., the late Rev. Ralph Abernathy, the Rev. Fred Shuttlesworth, and the Rev. Jesse Jackson. A couple of the organizations he was involved in include the N.A.A.C.P., the World Council of Churches, and the Revelation Corporation of Christ.

He was recognized for his efforts both locally and nationally. A couple of his honors include Who's Who among Black Americans, Who's Who in Religion, Ebony Magazine's 100+ Most Influential Black Americans, Conference of Christians and Jews special Recognition Award, Buffalo Urban League's highest award, "Outstanding Citizen of the Year" by the Buffalo News, and the Black Achievers Award of Excellence.

Rev. Smith was not only a pastor; he was an educator, a civil rights activist, a civil leader, and a humanitarian. In my opinion, all of these aspects are what make him one of the greatest leaders of all. I still remember looking at the many pictures, not believing that the man standing next to Martin Luther King, Jr. was my pastor.

Rev. Smith was definitely one of the greatest (if not the greatest) religious leaders in Western New York. From his inspiring sermons, to the love for his country, he has greatly influenced me, and anyone else that was fortunate to meet him, to live in "A More Excellent Way."


1st Place , Grade 7-9
Kelli Pirtle
City Honors School - grade 9

Reprinted with permission from "Historically Speaking": April 2003

Afro American Historical Association of the Niagara Frontier, Inc.