Edit Current Bio
UCB is written collaboratively by you and our community of volunteers. Please edit and add contents by clicking on the add and edit links to the right of the content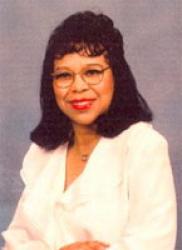 JoAnn Greene Grove-Bowler
Born on 4-3-1939. She was born in Oklahoma City, OK.
Basic Info
Attachments
Relations
Organizations
Accomplishments
Schools
Employers
Jo Ann S. Grove Bowler was born in Oklahoma City, OK on April 3, 1939. She was the second of seven children, having three brothers and three sisters, born to Leroy and Lucille Greene.

She became interested in Music and began piano lessons at the age of eight. Her mother and father purchased an old upright piano and Jo Ann practiced with great determination. She began attending Tabitha Mission in 1945 and became a member in 1948 after the Mission was organized into the Tabitha Baptist Church. When Jo Ann was 12 years old, with her mother's consent, she began playing for the Youth Choir. This was the beginning of a long love affair with the Lord and the Tabitha Music Department. At the age of 18, she became the Minister of Music and served in this capacity for ten years.

Jo Ann graduated from Douglass High School in 1956 and The University Business College, in 1957. In September 1968 she began attending the University of Central Oklahoma, Edmond and completed approximately 24 hours of course work. She also completed four years of study with Dean T. Decosta Calendar at King Is Coming Bible Institute graduating in 1988.

Jo Ann began working for the Department of Human Services in 1961 at the age of 21. At that time she was the fourth Black hired in the State of Oklahoma and was hired as a Stenographer in the Medical Evaluation Unit. In 1966, she was promoted to the office of the Director where she held the positions of Secretary, Administrative Secretary, and Administrative Assistant to the Director. She has worked with several governors and state officials during her 27 year tenure in State Service. After retirement from the Department of Human Services, she worked in the office of the Governor and served two terms with the Oklahoma State Legislature as a Secretary. Her employment history also included serving as Secretary for Kerr-McGee Oil, Finance Unit, and employment of two years with AT&T as Secretary, Engineering Department.

Jo Ann married at an early age. When she was 22, she and her husband adopted a little girl of three months age. The following year they adopted their son, who was also three months old at the time. Over the years, life has not been easy; Jo Ann suffered the death of both her second husband and daughter and has raised a granddaughter. But she credits these events with seasoning her in the faith.

Throughout her Christian life the Lord has blessed her to serve at the Tabitha Baptist Church in several capacities. She has held the positions of Pianist, Youth Choir Musician, Senior Choir, Minister of Music, Choir Director, Mass Choir, Church Organist, Church Musician, Teacher, Young Adult WMU, Teacher, Vacation Bible School, Teacher, Senior Women WMU, and Secretary, Pastorââ?¬â?¢s Anniversary Committee. In addition to being involved in all areas above, she has served as Administrative Secretary to the Pastor/Church Secretary for the past 11 years.

Her special gifts include: music, choir directing, teaching the Word of God, Intercessory Prayer, visiting and encouraging the sick, as well as Christian Counseling. In addition to serving in her church, being gainfully employed, and raising her family, Jo Ann saw the need to advance her education. She attended Oklahoma Baptist University, Shawnee, OK and graduated with an Associate of Arts Degree in Christian Studies at the age of 58. She was on the President's Honor Roll with a 3.7 grade point average.

In 2001, Tabitha Baptist Church gave Jo Ann a 50-Year Anniversary Celebration for 50 years of service to the Tabitha Music Department. In 2000, the Lord blessed her with her present husband, Ernest Bowler, Sr. Ernest is a Christian father of eight children, seventeen grandchildren, and two great grandchildren. Over the years, Jo Ann says that ââ?¬Å?God gave me increase in family, love, wisdom and of just knowing Him.ââ?¬

She has experienced many challenges and obstacles in her life, but faith in God and the knowledge of His Word has brought her through. She has a deep love of the scriptures, and her motto is found in Matthew 6:33 which states, "But seek ye first the kingdom of God, and His righteousness; and all these things shall be added unto you."

"It Pays to Serve Jesus"