Edit Current Bio
UCB is written collaboratively by you and our community of volunteers. Please edit and add contents by clicking on the add and edit links to the right of the content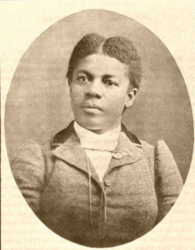 Born on 5-8-1864. She was born in Quincy, IL. She was accomplished in the area of Religion. She later died on 8-28-1924.
Basic Info
Attachments
Relations
Organizations
Accomplishments
Schools
Employers
Mrs. Lena Mason was born in Quincy, Illinois on May 8, 1864. Her parents, Relda and Vaughn Doolin, were devout Christians and brought up their daughter in the nurture and admonition of the Lord, so Lena became a Christian at a very early age. She attended the Douglass High School of Hannibal, Missouri. She also attended Professor Knott's School in Chicago. She married George Mason on March 9, 1883. She and George had six children. However, only one daughter survived to adulthood.

Mrs. Mason entered the ministry at the age of 23. During the first three years of her ministry she preached to whites exclusively. Later her congregations were mixed. She was a member of the Colored Conference. It was noted that she had preached in nearly every state in the nation. She was lauded for her speaking ability and it was said "the preachers are few who can excel her in preaching". She was recognized as having been instrumental in bringing 1617 souls to the Church.

She was a poet and songwriter. A contemporary, Rev. C.L. Leonard, pastor of the Central German M. E. Church, said of her, "I desire to express my highest appreciation of Mrs. Mason's church and effective evangelical work in my church and in many others. Mrs. Mason is now making a tour of the South, and by her lectures and sermons is doing a work among the colored people that will bear good fruit in the future. One only needs to hear Mrs. Mason lecture and preach to understand how it is that one never tires listening to her".

Mrs. Mason authored the poem A Negro In It in response to the assassination of President William McKinley. She also wrote The Negro in Education as well as other poems and songs. However, only the two named poems have survived.

Special Appreciation to Mrs. Ora Anderson Curry who kindly shared Mrs. Mason's poem and biography with us.